Kingswood: (632) 8 8965031 / 8 4011905; 0915 8219105
Centuria Medical Makati: (632) 8 9623193 / 8 5796226; 0916 2310121
F1 Hotel: (632) 8 4782358; 0905 5781694
Our Dentists
Enhance Your Smile, Enhance Your Life.
Enhance Dental gives you more reasons to smile.
Enhance Dental is composed of experienced professionals and friendly staff led by Dr. Mylene Guevarra-Igrubay. It is our aspiration to provide each patient the best possible oral health and smile.
In 2010, she was invited to attend an advanced training program on cosmetic dentistry held in Schaan, Liechtenstein. The training was conducted by Ivoclar, one of the leading suppliers of cosmetic dental materials in the world. The training was by invitation only and was offered to South East Asian Cosmetic Dental Practitioners. She was the only Filipino dentist who attended the training program. She excelled in the hands-on part of the training as cited by her Ivoclar trainors. The most modern techniques in cosmetic dentistry were introduced during the training. In 2011, she completed the Post Graduate Program in Esthetic Dentistry in UCLA.. In the same year, she was inducted as Fellow of Pierre Fauchard Academy, a prestigious international dental organization, mainly because of her successful practice of cosmetic dentistry. These were testaments to Dr. Mylene's commitment to really give the best possible smile to her patients through cosmetic dentistry.
In 2013, Dr. Mylene  Guevarra-Igrubay was elected President of the Philippine Academy of Esthetic Dentistry for the term 2013-2015. She is also a clinical key official lecturer of Ivoclar Vivadent in the Philippines.
Dr. Mylene Guevarra-Igrubay, her Associate Dentists, Dental Consultants and clinic staff are ready to serve and treat both local and foreign patients. At Enhance Dental, we are commited to give you the back the smile you truly deserve.
Our Dental Consultants
Meet the experienced professionals and consultants working with Enhance Dental.
Roberto Achilles S.M. Quiambao
Oral Surgery & Implantology
DMD, FPCOMS, FAAOMS, FIAOMS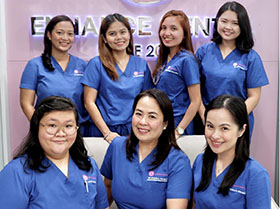 Meet the experienced professionals behind Enhance Dental.
Our Clinic Locations
Enhance Dental - Kingswood Condominium
Ground Floor, Kingswood Tower Arcade
Vito Cruz Ext. Makati City
Tel. Nos. (632) 8 8965031 / 8 4011905
Cell No. 0915 8219105
10AM to 7PM – Mondays thru Fridays
9AM to 6PM – Saturdays
Enhance Dental - Centuria Medical Makati
Rm. 1622 Centuria Medical Makati
Century City, Kalayaan Avenue corner
Salamanca St. Poblacion, Makati City
Tel. Nos. (632) 8 9623193 / 8 5796226
Cell No. 0916 2310121
10AM to 7PM – Mondays thru Fridays
9AM to 6PM – Saturdays
Enhance Dental - F1 Hotel
1st Floor, F1 Hotel F1 Hotel
32nd St. corner 5th Ave.
Bonifacio Global City (BGC) Taguig City
Tel. No. (632) 8 4782358
Cell No. 0905 5781694
10AM to 7PM – Mondays thru Fridays
9AM to 6PM – Saturdays
We accept:



We are accredited by:
The Philippine Department of Tourism
We are a recepient of:

Enhance your smile,
enhance your life.
We will improve your well-being and looks through the improvement of your oral care and smile. We offer professional and comprehensive dental services with no price discrimination between our local and foreign patients. We assure you that our quality dental services are commensurate with the price of our dental treatments.
© 2016 Enhance Dental except for some pictures.
Cosmetic Dentistry. General Dentistry. Orthodontics.
Webmaster: Dr. Leaderlou S. Magtoto