Kingswood: (632) 8 8965031 / 8 4011905; 0915 8219105
Centuria Medical Makati: (632) 8 9623193 / 8 5796226; 0916 2310121
F1 Hotel: (632) 8 4782358; 0905 5781694
Testimonials
Enhance Your Smile, Enhance Your Life.
Enhance Dental gives you more reasons to smile.
I can honestly say that I made the right decision to see Dr. Mylene G. Igrubay during my recent trip to the Philippines.
Read more
The work she has done on my teeth is exceptional and top quality. I found a dentist who is honest and compassionate, my wholehearted recommendation of you Dr. Igrubay. You have obviously chosen the right profession. Keep up the good work. I will see you again next year.
~ Elsa of Dallas, Texas, USA (May 2010)
I would like to thank Enhance Dental for all the patience and care that you have shown us while we were here.
Read more
The special care you have shown me concerning my heart health condition while doing my dental work was world class. Thank you for giving me a whole new set of teeth. The first time in years I now have a full set of teeth. I came here for a dental vacation due to the very high costs of dental care in Alaska. The costs of dental care in the United States was so high, I could not even afford to keep up to date with all the work that I needed to have done. But here in the Philippines and especially with you Dr. Mylene, I finally could afford to have a world class smile. I would recommend to anyone needing dental work to count the costs saved, come and visit this beautiful country. Thank you once again for giving me a beautiful smile.
~ Elsie of Alaska (March 2009)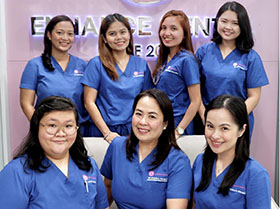 Meet the experienced professionals behind Enhance Dental.
Our Clinic Locations
Enhance Dental - Kingswood Condominium
Ground Floor, Kingswood Tower Arcade
Vito Cruz Ext. Makati City
Tel. Nos. (632) 8 8965031 / 8 4011905
Cell No. 0915 8219105
10AM to 7PM – Mondays thru Fridays
9AM to 6PM – Saturdays
Enhance Dental - Centuria Medical Makati
Rm. 1622 Centuria Medical Makati
Century City, Kalayaan Avenue corner
Salamanca St. Poblacion, Makati City
Tel. Nos. (632) 8 9623193 / 8 5796226
Cell No. 0916 2310121
10AM to 7PM – Mondays thru Fridays
9AM to 6PM – Saturdays
Enhance Dental - F1 Hotel
1st Floor, F1 Hotel F1 Hotel
32nd St. corner 5th Ave.
Bonifacio Global City (BGC) Taguig City
Tel. No. (632) 8 4782358
Cell No. 0905 5781694
10AM to 7PM – Mondays thru Fridays
9AM to 6PM – Saturdays
We accept:



We are accredited by:
The Philippine Department of Tourism
We are a recepient of:

Enhance your smile,
enhance your life.
We will improve your well-being and looks through the improvement of your oral care and smile. We offer professional and comprehensive dental services with no price discrimination between our local and foreign patients. We assure you that our quality dental services are commensurate with the price of our dental treatments.
© 2016 Enhance Dental except for some pictures.
Cosmetic Dentistry. General Dentistry. Orthodontics.
Webmaster: Dr. Leaderlou S. Magtoto