Kingswood: (632) 8 8965031 / 8 4011905; 0915 8219105
Centuria Medical Makati: (632) 8 9623193 / 8 5796226; 0916 2310121
F1 Hotel: (632) 8 4782358; 0905 5781694
Testimonials
Enhance Your Smile, Enhance Your Life.
Enhance Dental gives you more reasons to smile.
For all my adult life, I suffered from discoloured teeth which made smiling awkward and embarrassing.
Read more
My social and professional interactions suffered as a result. Recently, I had a good fortune of having Dr. Mylene Guevarra- Igrubay treat my condition. I was pleased to discover the quality of her work exceeded the high expectations set by the strong recommendations of her previous clients. I now have a brilliant new smile. I do not hesitate in recommending Dr. Mylene to anyone searching for an outstanding dental services.
~ Carlos of USA (April 2008)
I would like to thank Enhance Dental for the superb caps I have always wanted.
Read more
In the United States, these procedures are so expensive that only a few can afford to get them in any number. Thank you so much for my beautiful smile! I pray that God bless you Dr. Mylene and staff for all of the work you performed on me. I received seven frontal upper porcelain crowns, nine frontal lower crowns and seven amalgam fillings replaced with natural looking white fillings. My wife Connie, mother and I stayed directly across the street (Makati Avenue) at the Great Eastern Hotel. The hotel has a very good security and great prices and is directly across from the A. Venue Mall where the Enhance Dental is located. The upper end mall has lots of restaurants, a money exchanger, a licensed optometrist as well as a licensed dermatologist for those wanting to get a little Mesolipo, radio frequency treatment etc. I highly recommend you come, make your dental vacation with Enhance Dental where I know you will have a great experience.
~ Alvin of Alaska (March 2009)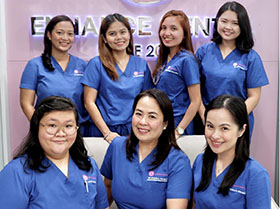 Meet the experienced professionals behind Enhance Dental.
Our Clinic Locations
Enhance Dental - Kingswood Condominium
Ground Floor, Kingswood Tower Arcade
Vito Cruz Ext. Makati City
Tel. Nos. (632) 8 8965031 / 8 4011905
Cell No. 0915 8219105
10AM to 7PM – Mondays thru Fridays
9AM to 6PM – Saturdays
Enhance Dental - Centuria Medical Makati
Rm. 1622 Centuria Medical Makati
Century City, Kalayaan Avenue corner
Salamanca St. Poblacion, Makati City
Tel. Nos. (632) 8 9623193 / 8 5796226
Cell No. 0916 2310121
10AM to 7PM – Mondays thru Fridays
9AM to 6PM – Saturdays
Enhance Dental - F1 Hotel
1st Floor, F1 Hotel F1 Hotel
32nd St. corner 5th Ave.
Bonifacio Global City (BGC) Taguig City
Tel. No. (632) 8 4782358
Cell No. 0905 5781694
10AM to 7PM – Mondays thru Fridays
9AM to 6PM – Saturdays
We accept:



We are accredited by:
The Philippine Department of Tourism
We are a recepient of:

Enhance your smile,
enhance your life.
We will improve your well-being and looks through the improvement of your oral care and smile. We offer professional and comprehensive dental services with no price discrimination between our local and foreign patients. We assure you that our quality dental services are commensurate with the price of our dental treatments.
© 2016 Enhance Dental except for some pictures.
Cosmetic Dentistry. General Dentistry. Orthodontics.
Webmaster: Dr. Leaderlou S. Magtoto